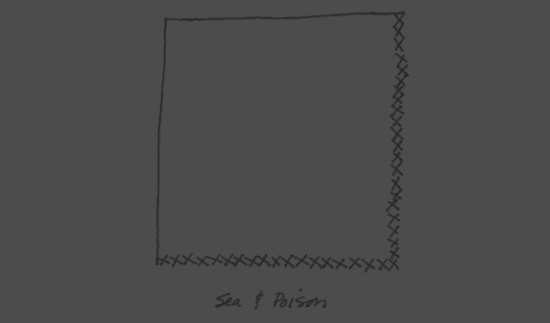 performance space drawing by Lin Hixson
For this piece we researched and extracted performative material from historical poisonings -- such as the choreographic epidemics known as Saint Vitus' Dance, now believed to have been caused by the mass consumption of contaminated bread, which struck Italian villages during famine years -- and from popular culture poisonings -- such as the combined radiation/insecticide poisoning which causes advertising executive Scott Carey to shrink to the size of a spider in the 1951 movie The Incredible Shrinking Man.
We have also set out to construct 'impossible dances' from a series of unperformable individual movements linked together by endlessly complex patterns and formulas, which challenge the limits of human ability, and as dance hover somewhere between musical composition and the clumsy marathon dance competitions of American depression years.
The Sea & Poison combines these investigations into a layered expression of the effects of poison on the body - the social body and the individual body - and of impossibility itself.
Created by: Karen Christopher, Matthew Goulish, Lin Hixson (director), Mark Jeffery, Bryan Saner
Commissioned by: Centre for Contemporary Arts (Glasgow, UK), and Dartington College of Arts (UK)