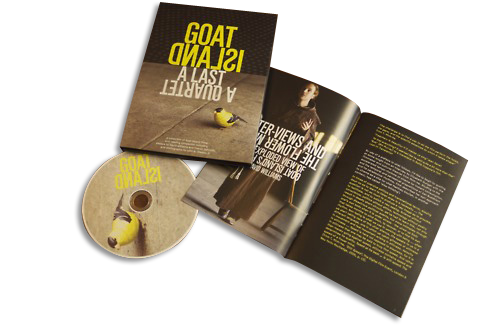 New DVD: A Last, A Quartet a collection of films by and Goat Island

(UK) and Goat Island (USA) began making moving image works together in 2001 and have since made four uniquely cinematic films which explore different kinds of choreographies for the camera: It's Aching Like Birds, Dark, Daynightly They re- school you The Bears-Polka and A Last, A Quartet. Shot on S16mm film in Chicago and the UK, each work is both independent of and a companion to the last three live performances by Goat Island: It's An Earthquake In My Heart; When Will The September Roses Bloom / Last Night Was Only A Comedy and The Lastmaker.
Two of the works in the DVD collection are single screen films and two are moving image works for gallery spaces which have been specially edited as split-screen films for the DVD.
The DVD package includes a booklet of photographs by Chicago-based photographer and essays by David Williams and Theron Schmidt.
Goat Island / Lucy Cash, London, DVD 49 minutes; with booklet 32 pages. ISBN 978-0-9565621-3-5


U.S. ORDERS:

PLEASE NOTE: This is a PAL encoded disc.
DVD available by mail order. Please send check made out to "Goat Island" to Goat Island, 1144 North Hoyne, Chicago IL 60622, USA $17.50, plus postage Institutional orders: $75, plus postage.

Please email gtislnd at interaccess dot com to confirm postage costs. Sorry, we don't take card payments.


U.K. AND INTERNATIONAL ORDERS:

Order by card from: Artsadmin Bookshop: Unbound: £12.50 Institutional orders: £50.

Please contact us if you would like information about the gallery installation requirements for Daynightly They re-school you or A Last, A Quartet: